1. What is our goal? Doubling the number of customers.
We intend to double the number of our business partners from 7.5 million in 2010 to 15 million by 2020. At the end of 2012, we were serving 8.7 million customers in 20 countries.
2. How will we achieve this? By focusing on the core business.
In order to achieve our customer target, we are concentrating on what we do best: on our core business as a primary insurer in our core markets of Austria and CEE. In line with this approach, we sold our shareholding in the Mannheimer Group in Germany in 2012 and our media investments. This was followed in the first quarter of 2013 by the sale of our hotel holdings. In return, we acquired the minority interests held by the European Bank for Reconstruction and Development (EBRD) in our insurance subsidiaries in Croatia, Poland and Hungary and increased the holdings in our private clinics in Austria to 100 per cent.
3. Where do we want to improve? Four-point programme.
We have initiated a four-point programme that will bring about lasting improvements to our core business and enable us to hit our target earnings for 2015, improving EBT by up to €400 million compared to 2010 (see item 5: Improving earnings):
a. UNIQA Austria – increase profitability
UNIQA Austria has set itself the target of increasing profitability significantly. We are optimising structures and processes, thereby improving our customer service and increasing cost efficiency. Among other things, UNIQA Austria is currently reorganising the regional headquarters and back-office activities in the Austrian federal states so that sales units will be largely relieved of administrative activities. At the same time, UNIQA Austria increased the number of service centre and general agency locations involved in exclusive sales – what we like to call our "local insurers" – from 300 in 2011 to 325 in 2012. The number is set to increase to 400 by 2015. During 2012, UNIQA Austria focused on achieving sustainable increase in profitability. The market share fell slightly by 0.3 percentage points to 16.9 per cent (based on preliminary market data for 2012).
b. Raiffeisen Insurance Austria – increase productivity
Raiffeisen Insurance has set itself the target of significantly increasing productivity over the coming years. Raiffeisen Insurance operates in the bank assurance segment in Austria. It sells its products exclusively through the Raiffeisen Banking Group, which operates by far the largest network of bank branches in Austria.
To tap the significant potential presented by this cooperation, Raiffeisen Insurance has completely reorganised itself by focusing systematically on the needs of bank advisers and their customers – with a small number of core products, streamlined and efficient processes and a new brand identity that is aligned with the Raiffeisen banks. In the third quarter of 2012, Raiffeisen Insurance concluded cooperation agreements with the regional Raiffeisen banks, regulating the new form of cooperation. Raiffeisen Insurance expects this new form of cooperation to have significant effects over the coming years. In 2012, its market share fell slightly by 0.2 percentage points to 4.7 per cent (based on preliminary market data for 2012) because the single-premium business was actively reduced.
c. UNIQA International – profitable growth
The objective of UNIQA International is to secure sustainable growth above the market rate in the CEE region – while maintaining a focus on profitability and value.
As part of this strategy, UNIQA International is investing in the expansion of its sales activities on the one hand. Consequently, the number of sales agents employed in 2012 rose by 11 per cent. On the other hand, UNIQA International launched the "Transparency" project, which aims to implement a target operating model throughout the CEE region over the medium term. The objective: a clear operating model for all CEE units, with simple, comprehensible products, customer-oriented processes and a transparent structure. Through this, UNIQA International intends to improve its customer service, leverage cross-border synergies and significantly improve cost efficiency.
Much like in Austria, our focus in the CEE region is also on close cooperation in the bank distribution business with our partner Raiffeisen. We operate in 14 countries as part of a preferred partnership with the subsidiaries of Raiffeisen Bank International, which has the largest western banking network – with over 3,000 branches – in the 17 CEE countries in which it operates.
In 2012, we further expanded our market share in 12 of 15 CEE countries (based respectively on the most recent available figures). In our core market in the CEE region, we advised 58 per cent of our customers and generated 23.4 per cent of Group premiums. By 2020, UNIQA intends to generate 50 per cent of Group premiums and 30 to 40 per cent of consolidated profit in the CEE region. In 2012, we generated EBT of €13.2 million in the CEE core market, following a loss of €28.2 million in 2011.
d. Risk management – controlling risk
UNIQA regards the issue of Solvency II as an opportunity for customers and companies and is preparing intensively for the new regulatory framework. With this in mind, we have become the first Austrian insurance company to set up an independent department for risk management in the Management Board and are implementing a consistent risk-return policy for corporate management alongside the commercial strategy. The functions of risk management are to support the operational units, to target those risks that will generate value in the long term from the economic capital, and to generate maximum value increases from the capital employed. The focus is on sustained corporate success. UNIQA will become more transparent and predictable for customers and investors.
4. What do we need to do that? Strengthening the equity base.
For our ambitious growth strategy in Austria and in the CEE region, we need sufficient amounts of capital. For this reason, we are planning a capital market transaction (re-IPO), depending on market conditions, that would enable the free float to be increased to 49 per cent. In 2012, we carried out a cash capital increase amounting to €500 million as an interim step. It was underwritten by our existing core shareholders Raiffeisen Zentralbank (RZB) and Austria Privatstiftung. In addition, the core shareholders Austria Privatstiftung and Collegialität contributed their shareholding in UNIQA Personenversicherung AG of 36.6 per cent to the listed holding company UNIQA Versicherungen AG. In a further step, UNIQA Sachversicherung AG and CALL DIRECT Versicherung AG were merged with UNIQA Personenversicherung AG to create the new UNIQA Österreich Versicherungen AG, which is 100 per cent owned by the holding company UNIQA Versicherungen AG. The result is a streamlined Group structure that is more conducive to our planned capital market activities and one that is devoid of significant minority interests.
These transactions along with the improvements achieved as a result of the UNIQA 2.0 programmes have strengthened the capital base of UNIQA significantly. The higher solvency ratio – 214.9 per cent as at 31 December 2012 compared with 122.5 per cent the previous year – created the basis that allows us to exploit short-term growth opportunities in the CEE region.
A structure that is supportive of capital markets
Enlarge image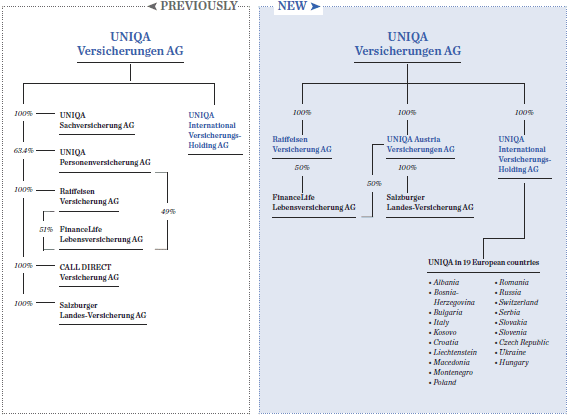 5. Why is that attractive to the shareholders? Improving earnings.
We have set ourselves the target of increasing EBT by up to €400 million from 2010 to 2015. For 2012, we set out to achieve higher EBT than in 2010 (€141.8 million). We succeeded in reaching this target: earnings of €205.4 million put us 44.9 per cent ahead of the figure for 2010.