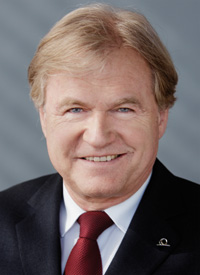 Konstantin Klien
Chairman of the Management Board
Dear ladies and gentlemen,
Three years after the worst recession since 1945, our annual report for 2010 covers a year defined by global economic recovery. However, there are still significant economic imbalances, and they have caused the worldwide recovery phase to proceed in divergent ways in the various markets and economic regions. Austria was able to profit from Germany's powerhouse economy and the strong increase in export, recording comparatively strong economic growth. The same applied to most of the Central and Eastern European countries, which were also supported by strong export demand and were able to record significant improvement of the economic environment.
However, there are still many uncertainties in this economic recovery scenario. First, domestic demand remains weak in many countries, and this is one of the essential prerequisites of self-sustaining growth. Second, fiscal political measures aimed at reviving economic growth are burdening the public purse to an unprecedented extent. The uncertainty about governments' ability to noticeably reduce their budget deficits – this applies particularly to states on the periphery of the eurozone – still conceals significant risks, especially for the finance sector and the capital markets.
In the past financial year, the UNIQA Group was able to record a distinct increase in earnings with a profit on ordinary activities before taxes of around €153 million. The most important basis for this was positive growth in nearly all markets and business segments. With an increase in premiums written by 8.4%, for the first time we were able to achieve a premium volume of over €6 billion. The life insurance line deserves special mention; due to the very successful cooperation with the Veneto Banca in Italy and continued strong growth in Central and Eastern Europe, it was able to post just over 13% growth compared to the previous year. With 5.9% growth in premium volume in property and casualty insurance, and 3.5% in health insurance, we were able to attain growth significantly above the market average in both other business segments as well. This development underlines once more UNIQA's good position in our core markets.
The stable development of capital investment results, with a 17.3% increase in net investment income to €841 million, also contributed to this positive trend in profit. Profit on ordinary activities in 2010 was dampened by a massive increase in claims due to natural disasters, especially in Germany, Poland, and other markets in Central and Eastern Europe. In recent years, there has been a general increase in the number of smaller claim events, which will lead to an adjustment of premiums due to the changing risk situation.
The overall significant improvement of the business performance allows us, in agreement with the Annual General Meeting, to continue our sustainable dividend policy by proposing a dividend of 40 cents per share.
In the area of legal regulations, the new capital adequacy requirements in Solvency II pose a special challenge for the entire European insurance industry. In addition to significant costs associated with the introduction of the new regulatory framework, there are a series of weak spots in the parameters and details that need to be dealt with before the system goes into effect on 1 January 2013. The insurance industry has shown in the past that it can overcome global crises, even under the existing regulatory framework. The regulations contained in Solvency II seem in a few areas to be unfitting and excessive, calling into question the successful business model of the European insurance industry in essential segments, such as classic life insurance. Our commitment and our effort should therefore be directed at working together with the relevant European institutions on the necessary final touches for a successful solvency model.
2010 brought along a number of challenges that we met with high commitment and great creativity, paving the way for our good profit performance. We would like to thank all our employees and partners for this. And finally I would like to thank you, our shareholders, for your trust in our company. UNIQA is well-equipped to handle the coming challenges, and I am convinced that my successor, Andreas Brandstetter, will continue to lead UNIQA successfully down its path as a European insurer with Austrian roots.
Vienna, April 2011
Konstantin Klien