Enormous growth potential in the CEE region

–––

Central Europe (CE)

•

Population 64.2 million

•

Insurance premium per capita (insurance density): €386

–––

Eastern Europe (EE)

•

Population 67.3 million

•

Insurance premium per capita (insurance density): €62

–––

Southeastern Europe (SEE)

•

Population 29.3 million

•

Insurance premium per capita (insurance density): €102

–––

Russia (RU)

•

Population 140.1 million

•

Insurance premium per capita (insurance density): €115

–––

Austria

•

Population 8.4 million

•

Insurance premium per capita (insurance density): €1,952
UNIQA operates in 16 countries in the CEE region – in 15 countries through its own subsidiaries, which operate 1,580 service centres. Slovenia is served from Austria. We are the market leader in Albania, the number two in Ukraine and are among the top five in five other markets – Kosovo, Montenegro, Bosnia and Herzegovina, Serbia and Slovakia.
Much like in Austria, our focus in the CEE region is also on close cooperation in the bank distribution business with our partner Raiffeisen. We operate in 14 markets as part of a preferred partnership with the subsidiary banks of Raiffeisen Bank International, which operates the leading western bank branch network – with over 3,000 branches and more than 14 million customers – in the 17 CEE countries in which it is active.
We are pursuing a unified brand strategy in the CEE region. We operate in 12 countries under the UNIQA brand. In two countries – Albania and Kosovo – we use the "SIGAL UNIQA Group Austria" brand. In Russia, we are concentrating on the bank distribution business and are represented solely under the "Raiffeisen Life" brand. Given its relatively recent entry into these countries, the UNIQA brand has yet to achieve the level of recognition in the CEE region that it enjoys in Austria. However, it is extremely attractive and offers an excellent basis for our continued expansion. In the 12 countries in which we employ the brand, UNIQA enjoys a spontaneous recognition of 10 per cent and an aided recognition of 39 per cent on average. Our highest recognition levels are in Montenegro (87 per cent aided recognition), Bosnia and Herzegovina (67 per cent), Serbia (59 per cent) and Hungary (57 per cent). For details on current brand recognition, please refer to the graph.
In the 17 CEE countries in which Raiffeisen Bank International operates, the Raiffeisen brand is the strongest international bank brand, with an average spontaneous recognition of 37.4 per cent and an average aided recognition of 69.5 per cent.
UNIQA: unified brand strategy
Current recognition of the UNIQA brand, figures in per cent
Enlarge image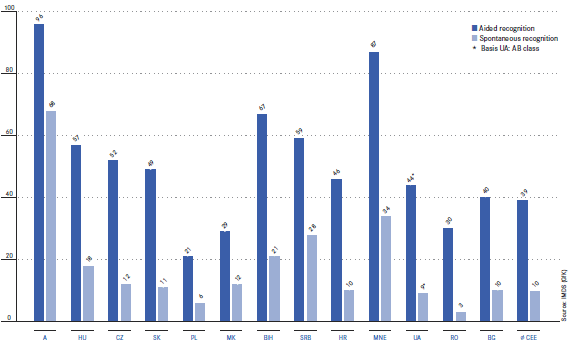 The markets in the CEE region offer major growth opportunities. This is illustrated by comparisons of per-capita spending on insurance products, or the insurance density, as it is called. Whereas an Austrian invests an average of €2,000 annually in insurance security, the corresponding per-capita spending on coverage in Albania is a meagre €20. Annual per-capita spending on insurance amounts to €45 in the Ukraine, €266 in Hungary and €1,000 in Slovenia. The common denominator across all CEE countries: the catch-up requirements, and thus the growth potential in the economic region served by UNIQA with a population of 300 million, are significant.
Numerous economic forecasts support the notion of substantial growth potential in the region: the respected international research institute Business Monitor International (BM), for example, expects GDP growth rates in CEE countries to outperform those in Western Europe significantly in the period from 2010 to 2020. While BM envisages economic growth of 45 per cent in Austria for those ten years, the equivalent growth rates in Poland, Romania and Albania are 84 per cent, 92 per cent and even 97.9 per cent, respectively. The economic upturn in Eastern Europe is a decade-long process involving the business sector, society and the economy as a whole. For this reason, UNIQA is committed to these markets for the long haul. We have come to stay, and we have come to grow.
Enlarge image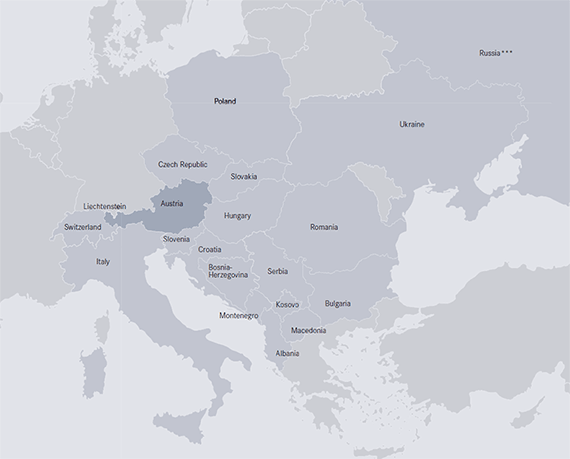 Regions/countries

Market position

Market share*

Change in market share**

*

Market share: figures in per cent

**

Change in market share: figures in percentage points

***

Market position life insurance

AUSTRIA

2

21.6

-0.5

CENTRAL EUROPE

Poland

11

2.4

-0.2

Slovakia

5

4.8

+0.1

Czech Republic

8

4.0

+0.1

Hungary

6

7.1

+0.6

EASTERN EUROPE

Romania

6

6.0

+1.2

Ukraine

2

4.0

+0.3

SOUTHEASTERN EUROPE

Albania

1

32.4

-2.4

Bosnia-Herzegovina

4

11.4

+0.2

Bulgaria

6

7.0

+0.5

Kosovo

3

13.6

+1.0

Croatia

11

2.5

-0.1

Macedonia

8

7.5

+0.9

Montenegro

4

14.1

+1.6

Serbia

5

7.3

+0.6

RUSSIA***

10

3.2

+0.1