The UNIQA Group wants to be a reliable partner for its customers in Austria as well as in Central and Eastern Europe. Therefore, we are focusing on the direct insurance business in our core markets.
The UNIQA Group, with its region-wide presence, is one of the leading insurance groups in Austria and CEE. The UNIQA Group also includes insurance companies in Italy, Liechtenstein and Switzerland. Over ten million customers have already placed their trust in UNIQA – 35 per cent of them in Austria, and 65 per cent in international markets.
Enlarge image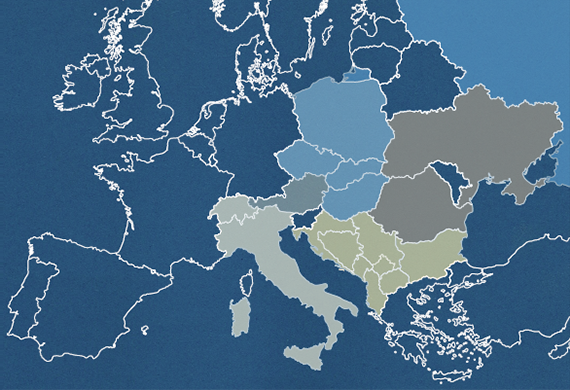 The UNIQA Group is one of the leading insurance groups in Austria and in Central and Eastern Europe. The objective is to win over more customers in these core markets. The focus is on the direct insurance sector.
Our objective – Win over new customers
In the UNIQA 2.0 strategy, we have set out to raise our number of customers to 15 million by 2020. We remain fully committed to this goal, even if things became complicated due to market trend in 2014. We remain convinced of the potential of the CEE area, and we want to develop a long-term relationship with customers in this region. This is why we are investing over the long term: to create value for our shareholders.
Regions/countries

Market position

Market share1)

Change in market share2)

1)

Market share: in per cent

2)

Change in market share: in percentage points

3)

Market position life insurance

Figures Austria and CEE 1–9/2014, ranking method CEE: insurance group totalled per country

AUSTRIA

2

21.1

–1.1

CENTRAL EUROPE

Poland

11

2.4

–0.2

Slovakia

5

5.1

+0.1

Czech Republic

6

3.9

–0.3

Hungary

7

6.8

–1.0

EASTERN EUROPE

Romania

9

5.5

–1.6

Ukraine

1

4.9

+1.4

SOUTH EASTERN EUROPE

Albania

1

31.6

–2.0

Bosnia and Herzegovina

2

12.0

–0.2

Bulgaria

8

6.0

–0.7

Kosovo

1

15.6

+1.1

Croatia

5

7.1

–

Macedonia

3

9.2

–0.6

Montenegro

3

16.1

+1.4

Serbia

5

8.0

–0.2

RUSSIA3)

8

3.4

+0.1