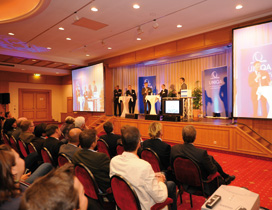 Over 700 participants were at the informative
GeneralAgencyCongress in 2010 in Saalfelden. In
addition to the topics of the forum and fair booths, a
great deal of networking took place as well.
Comprehensive information for UNIQA General-Agencies
In order to ensure comprehensive information in agency sales regarding the development, strategy and products of UNIQA, the seventh UNIQA GeneralAgencyConference was held in Saalfelden in 2010. In total, more than 700 participants from Austria as well as interested representatives of GeneralAgencies in Slovakia, Bosnia, Poland and the Czech Republic learned first-hand about developments of recent months and the prospects for the future. At the same time, they learned many valuable details about product innovations and advertising options – eleven fair booths, topical forums and a podium discussion offered a broad platform for exchanging information.
Every year, the GeneralAgencyConference forms the high point of the initiatives for strengthening and expanding the General-Agency system of UNIQA, which was established in 1999 and has since proven itself across Europe. This system in Austria is becoming increasingly important to the entire Group. At the end of 2010, General and PartnerAgencies already existed at 300 locations within Austria.
The most important source of information and expertise for independent sales partners of UNIQA is the well organised GeneralAgencyAcademy. In addition to providing a basic education covering the most important UNIQA provision and risk solutions within the framework of the total customer strategy, the academy also offers a wide range of in-depth seminars as a central education and training institution. These topics range from Entrepreneurs & Management Strength to Product & Argumentation and from Sales & Professionals to Practices & Technology. The spectrum is rounded out by seminars specifically geared toward back office staff. To enhance the motivation of its partners, UNIQA regularly offers trips for General-Agency employees. In 2010 for example, 100 happy participants travelled to Marrakech on the GeneralAgency trip.
Expertise and effective tools for brokers
For brokers, UNIQA also offers tailored seminars which provide important continuing education on a personal and professional level with a wide range of challenging topics. The UNIQA BrokerService, the largest partner of Austria's brokers, again presented numerous themes that were well received by the branch in 2010.
One highly useful tool for training brokers is the BrokerAcademy, which was founded back in 1997 and has hosted events for more than 2,000 people, including 167 in the year 2010 alone. The wide range of topics extends from economics, finance and stock markets to personal fitness and mental training. Furthermore, the broker academy regularly offers trips to events at attractive destinations throughout the world which have been very well received by the brokers. The focus is on continuing education and networking as for example in 2010 in Marrakech.
The electronic sales platform for brokers was replaced in 2010 by the new UNIQA CustomerManagementSystem (U.KCS). U.KCS offers all the valued features for supporting daily tasks and also optimises system technology which allows more rapid reactions to the needs of sales partners. Numerous functions promote highly efficient work: For example, an online rate programme presents at a click the entire product portfolio of BrokerSelect, the exclusive product line for independent brokers. The generation of offers and submission of insurance applications can be performed quickly and easily with this system at the click of a mouse. Applications from all the insurance partners can also be electronically transferred and are automatically reimbursed.
Special assistance services and service offerings, such as in connection with the TopPartnerCard, explicit service guarantees as well as an information system specially adapted to the individual needs of the brokers round out the offerings by UNIQA for all independent brokers.
Cooperation with banks continues to thrive
Last year, the Preferred Partnership between UNIQA and the Raiffeisen bank group maintained since 2004 again proved fruitful in Central and Eastern Europe and is being continuously expanded to satisfy customer and business interest. In addition to the sale of combined bank and insurance products, the partnership aims to successively introduce capital forming life insurance products in select markets. The cooperation generates extensive synergies and advantages for both UNIQA and Raiffeisen. The cooperative effort now covers 14 markets of 15 million customers served by approximately 3,000 affiliates. In 2010, premium volume was about €1 billion.
Parallel to this cooperation with Raiffeisen is the enhanced cooperation since 2009 with the Veneto Banca Group in Italy that specialises in life insurance. Due to the boom in life insurance, it also faired very well in 2010.
All total, UNIQA together with its two partners in bank sales generated about 25% of foreign Group premiums in Central and Eastern Europe in 2010. Raiffeisen Versicherung is responsible for the Austrian bank sales of the UNIQA Group. Raiffeisen Versicherung is broadly based in Austria with products in the areas of life, accident, property and vehicle insurance, and manages approximately 1.5 million policies.
Within the framework of an optimisation programme, Raiffeisen Versicherung established the prerequisites for an efficient and group-wide process management system during 2008 based on defined standards. The compliance with customer-oriented quality criteria as well as the achieved response and throughput times are constantly evaluated and analysed on the basis of key performance indices and improved through corresponding individual or general measures.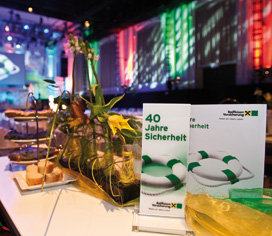 The highlight of the 40-year anniversary of the
founding of Raiffeisen Versicherung was a two-day
event in Obertauern.
40 years of Raiffeisen Versicherung
With a roadshow through all of Austria, Raiffeisen Versicherung celebrated its 40-year anniversary of existence in 2010. The high point of the festivities occurred in November 2010 with a two-day event in Obertauern. In addition to the anniversary celebration, the programme for more than 500 guests included outdoor activities from snowshoe hikes to curling that were accompanied by Raiffeisen Versicherung representative Matthias Lanzinger and many other prominent athletes. The two Management Board Chairmen Klaus Pekarek and Martin Sardelic presented the three best consultants from the divisions of life insurance, company pension insurance, accident insurance, property insurance and vehicle insurance. In addition to security, Raiffeisen Versicherung will focus in the future on its core expertise in pension and contingency protection. A symposium was accordingly held in the summer of 2010 on company and private pension.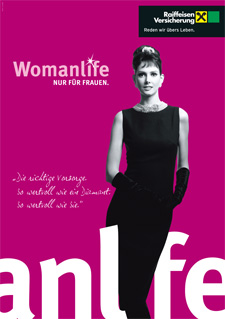 Financial provision for women is the focus
of the initiative "Womanlife".
Womanlife – a provisions programme for women from Raiffeisen Versicherung
The Womanlife programme initiated in 2003 by Raiffeisen Versicherung drew attention again in 2010 to the importance of financial provisions for women – a topic that has been rather neglected in the past. The exclusively female consultants for this programme in Raiffeisen banks offer product advantages tailored especially for women, as well as workshops on sales advice, on supporting customer events and on sales campaigns for women. The range of services offered by Womanlife is at present the most comprehensive finance-related programme for women in the Austrian market. To round off the services, Raiffeisen Versicherung started an online platform at the end of 2005 entitled "Circle Womanlife" that functions as a platform for exchanging and obtaining information amongst female consultants in Raiffeisen banks.