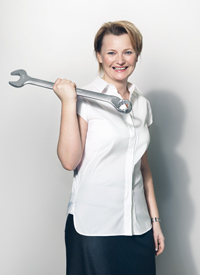 Ingrid Ehrnhöfer /
Contract Manager Life Insurance
Raiffeisen Versicherung
A company is like a big engine. With many wheels that need readjusting to make sure they run smoothly. Different tools are necessary as well as knowing where to apply them. A minor tweak is often all that is required to enhance performance. First you need a plan, but then you have to implement it. With the right keys to success.
"Implementing means a hands-on attitude, and cranking the right screws."