Our aim is to be successful as a team – and to deliver optimal results. This is why we are focusing on expertise and commitment.
In 2013, our 22,000 employees and exclusive sales partners worked hard to implement our UNIQA 2.0 strategic programme – and enjoyed great success in doing so. We are committed to UNIQA's success. In order to achieve this, we initiated a range of initiatives in 2013.
Striving for excellence
The implementation of the UNIQA 2.0 strategy requires the targeted training and further education of our employees and managers. In 2013, UNIQA launched a Group-wide leadership development programme aimed at further expanding the expertise of its management team. 150 of our top employees will complete this programme over the next three years. In 2013, 70 managers successfully started the leadership programme. We are furthering the professional qualifications and knowledge of our employees through new training formats and additional training days both in Austria and at our international locations. Advancing and motivating our employees and strengthening their skills is an important strategic lever in achieving our goals. (Number of training days increased by up to 50 per cent.)
Taking the pulse of the Group
Employee feedback is hugely important to us. To this end, the "UNIQA 2.0 Sensor" employee survey was carried out in Austria in October 2013. The online survey provides an insight into the extent to which the UNIQA 2.0 strategic programme is already integrated within the company at present. The results show that our employees are familiar with the objectives of UNIQA 2.0 and that the measures in the areas of communication and management development are having a particularly positive impact. The feedback from our employees also shows where there is room for improvement and will help us to define and realise appropriate measures. Above all, there is still potential for improvement when it comes to cooperation between the departments. This is an area where we must improve further – and we will.
Achieving a healthy work-life balance
For parents who work, needs-oriented, respectful childcare is a basic requirement for a successful professional life. However, finding a solution that is satisfactory to all concerned is not always easy. It requires great flexibility and is extremely time-consuming. Accordingly, UNIQA is working together with the external partner KibisCare. KibisCare provides a comprehensive childcare service that makes parents' lives easier and supports them in their day-to-day work. The proportion of women in Management Board positions and senior executive roles is currently 17 per cent across the Group as a whole and 25 per cent in the international area.
We believe that the ability to combine a career with family life is a key issue when it comes to increasing the proportion of female managers. Flexible working hours and teleworking models are established elements of UNIQA's human resources policy. In 2013, 12 per cent of employees in Austria took the option of working part-time, while 8 per cent used teleworking.
Health and fitness
The newly created "UNIQA Freiraum" offers a wide range of health-related and sporting activities. Regular information and campaigns on healthy eating, sport and exercise and physical relaxation and the varied offerings of the UNIQA sport club help our employees to stay fit, as well as promoting a spirit of cooperation.
Our employees' social commitment
We aim to provide our employees with a working environment that is characterised by mutual respect. Social commitment is a fixed element of the corporate culture at UNIQA. This includes encouraging all employees to give something back to society and help people or institutions that provide aid. The UNIQA Social Day, which was launched in 2013 for employees at the Group's head office, gives each employee one workday on which to support a charitable institution of their choice. We are delighted by how well this initiative has been received and, in particular, by the level of dedication shown by the UNIQA team.
Investing in the future
UNIQA is committed to promoting young talents. To achieve our ambitious goals, we need the best people. Since 2013, we have cooperated with various universities on initiatives including the "WU Top League" high-potential programme at the Vienna University of Economics and Business and the "TU the Top" programme at the Vienna University of Technology.
UNIQA 2.0 Sensor 2013: Employee survey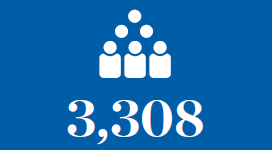 employees took part in the survey in Austria. UNIQA 2.0 Sensor is extremely important to the company. It illustrates the progress of the change process and its integration within the individual segments.
| | |
| --- | --- |
| are familiar with the objectives of the UNIQA 2.0 strategic programme. | of those surveyed were familiar not only with the objectives of the programme, but also with the related operational measures. |
| | |
| --- | --- |
| of participants stated that senior management keeps them regularly informed about developments in UNIQA 2.0. | of those surveyed are fully behind the strategic programme. They see UNIQA 2.0 as an extremely important step in maintaining UNIQA's long-term competitiveness and securing the Group's future. |
Enlarge image