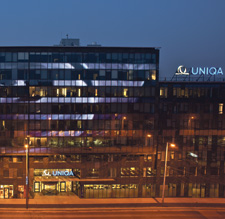 UNIQA Hungary celebrated its 20th
anniversary in 2010: The new headquarters
in Budapest were opened well in advance
in December 2009.

On 25 October 2010, UNIAQ Biztosító celebrated the first two decades of its existence and could look back with pride on an impressive history of success. With roughly half a million customers, the company is the sixth-largest composite insurer in the Hungarian market and one of the fastest growing insurance companies in Hungary. Among other things, UNIQA Biztosító launched the first unit-linked insurance in Hungary with a guaranteed disbursement in euros and the first insurance specifically for women. The company has been a member of the UNIQA Group since 2003 and now employs 1,460 persons. Total premiums exceeded €200 million in 2010.
UNIQA Hungary celebrated the jubilee with special "SilverLine" anniversary offers, including a 20% premium rebate for a combined renters and legal expenses insurance policy and a rebate of up to 25% for motor vehicle and comprehensive insurance or a new multi-currency life insurance with great investment latitude. It was also possible to take out accident and health insurance at reduced premiums in connection with the anniversary campaign.
In addition to rising numbers of clients and premiums, UNIQA was awarded the "Superbrand" distinction in Hungary for the fourth year in a row in 2010 and received the B2B "Business Superbrand" award for the second time. After having ranked UNIQA Biztosító in third place in motor vehicle insurance in Hungary as early as 2008, the Hungarian Association of Independent Insurance Brokers chose it as the best motor vehicle insurer.
The new UNIQA headquarters in Hungary were opened in December 2009, just in time for the 20th anniversary. The appealing new building offers the employees in Hungary amply lighted offices with modern furnishings on floor space exceeding 18,000 m2.