Market review 2010
UNIQA Hungary expanded its product range to include legal expenses insurance. Examples of the new products are legal expenses insurance for families, as well as legal expense protection for real estate owners, motor vehicle owners and hunters.
In Poland, UNIQA opened new headquarters in the centre of Warsaw in December 2010. The modern building has six floors with 12,000 m2 of total floor space. The branch in Łódz continues to be an important location, accommodating the call centre and the claims processing as well as other functions. The GeneralAgency concept has also been very successful for UNIQA Poland. The number of GeneralAgents has doubled to a 100 since 2008.
UNIQA poištovna was the first insurance company in Slovakia to offer comprehensive insurance online. The company offers a total of four top-level products online, thus setting itself apart as a pioneer in the Slovakian online insurance market. A new home owners' and apartment insurance with comprehensive all-round protection and high quality assistance services were further additions to the Slovakian product portfolio.
UNIQA Serbia has also offered the successful UNIQA severe weather warning via SMS since May 2010. UNIQA already offers this service in eight countries.
The formation of UNIQA Asigurari de Viata SA represented UNIQA's market entry into life insurance in Romania in 2010.
UNIQA Bosnia and Herzegovina celebrated its ten years of existence, including five years as the brand UNIQA Osiguranje d.d., in the National Theatre in Sarajevo in September 2010.
UNIQA launched the new health and life insurance IMPULS in Montenegro. Its target group is made up almost of 14 to 55 year-olds who can take out a contract extending for five to a maximum of 25 years. In cooperation with Montenegro Telecom, UNIQA also launched a special casualty insurance policy for families. Nikola Janovic, a member of the Montenegro national water polo team, was recruited to provide a testimonial.
Rebranding was performed in the Ukraine in 2010 – four years after UNIQA's market entry. A high impact campaign accompanied the renaming of the former Credo Classic Insurance Company as UNIQA Insurance Company. In addition to its traditional values, the new brand name brings the Ukrainian insurer the status of a European insurance company whose reliability and quality of service are backed up by the experience and stability of a large international group. The Ukrainian UNIQA company is one of the top 5 in the country's insurance industry.
In Bulgaria, UNIQA expanded its apartment and home owner's insurance "Home & Happiness" to include a new product combining home owner's, liability and casualty insurance for the first time. In addition to the basic components "Standard", "Comfort", and "Prestige", flexible supplemental components provide comprehensive and individual insurance protection for the segments "travel" and "pets". The product portfolio was also expanded for small and medium-sized enterprises as part of a "business plan" campaign. UNIQA offers seven products for a comprehensive business insurance solution specifically tailored to commercial customers, which are included in a complete package.
The UNIQA QualityPartnership has also been successful in other markets with innovative customer loyalty programmes and tools including, for example, a new legal expenses hotline in Hungary and innovative assistance services in the apartment and home owner's insurance in Slovakia.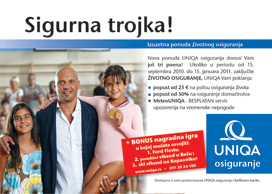 The campaign with the Serbian basketball player and
trainer of the national basketball team, Aleksandar
Ðjorðjevic, on behalf of the launch of the new UNIQA
life insurance line for Serbia was very successful.
Apart from the positive impact on the specific product,
the campaign raised UNIQA's brand recognition by
10% to 63%, the second-best result since the
market entry in 2007.