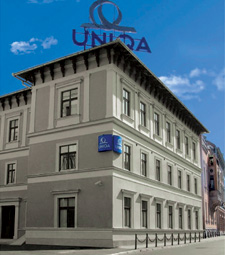 Since September 2009 the employees in
Sarajevo have been working in a lovingly
restored, historic student dormitory.
On 24 September 2009, the Bosnian company UNIQA Osiguranje moved into its new home in the city of Sarajevo. The former student dormitory built in 1891 was renovated while keeping the original facade and outfitted according to modern office standards. The three floors with a total of 1,351 m2 now offer space for 91 employees to work.
Founded in 1997, the Bosnian subsidiary of UNIQA now boasts four regional branches (Sarajevo, Tuzla, Bihac and Banja Luka), four service centres and 30 offices throughout Bosnia and Herzegovina. With a market share of 10%, the company primarily offers a number of life insurance variants and earned a premium volume in 2009 of over €16 million. This places the company in fifth place among the 15 insurance companies active in Bosnia and Herzegovina. In addition, UNIQA Osiguranje d.d. was recognised two years running with the titles Superbrand and Business Superbrand as a leading insurance brand in the country.