Mavie – On the way to being a holistic healthcare provider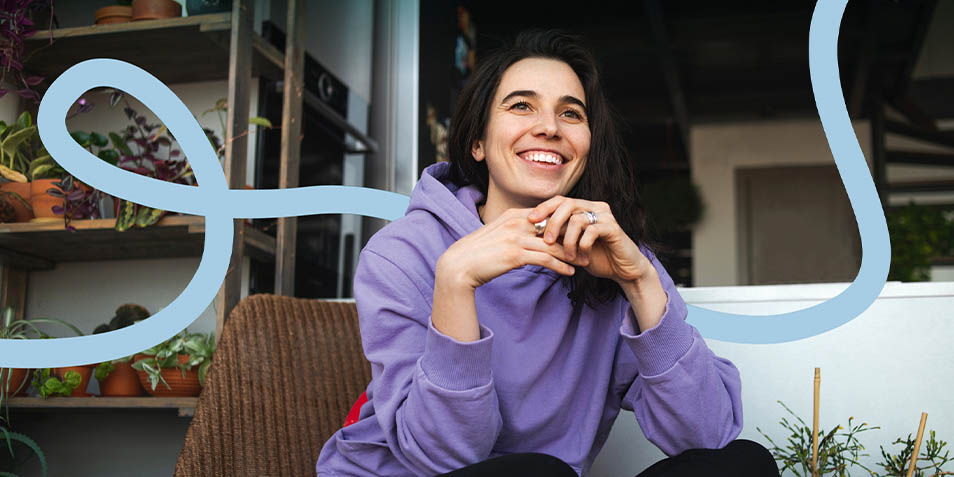 With the founding of Mavie Holding in September 2022, UNIQA combined its activities in the healthcare sector to go beyond the traditional insurance business. This gives UNIQA a new position in an attractive market. Mavie unites both the PremiQaMed Group and the offerings of SanusX and UNIQA Health Services under one roof, thus creating a comprehensive "health ecosystem". The diverse portfolio now ranges from private clinics, medical centres and outpatient clinics, health networks such as LARA, VitalCoaches and VitalHotels, 24-hour care all the way to company health management. The result: ever new and even more attractive offers for a growing number of customers – both existing and new.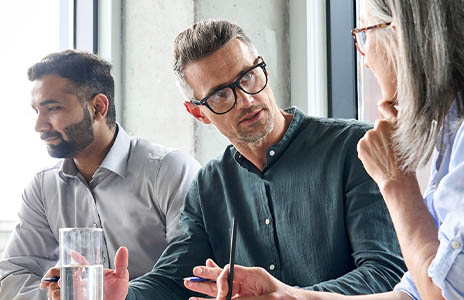 The general environment makes clear that health is a diverse – and demanding – market
Health has not just been a central issue in people's minds since Covid-19: For nine out of ten people, it is the most important factor for their happiness. In a country like Austria, we must therefore expect no less than the best healthcare system for everyone.
But the challenges are complex. Society is getting older and older – by 2030, 30 per cent of the Austrian population will already be over 60 years old. As a result, the demands on the health system are increasing continuously, and care and nursing are also becoming more and more important. Of the general population, 75 per cent have back pain, 50 per cent suffer from psychological stress, 17 per cent from insomnia. Young people are also increasingly affected: 20 per cent of Generation Z in Europe report poor or very poor mental health – more than in other generations.
Yet conventional health care relies on so-called repair medicine instead of prevention: Only about 2 per cent of the total expenditure in Austria is spent on prevention, the rest is on inpatient or outpatient care. Exploding costs and a shortage of skilled workers are pushing the system to its limits. With an annual expenditure of around €4,000 per capita, the healthcare system in Austria is the third most expensive in Europe after Germany and the Netherlands. Despite this, the number of physical and mental illnesses continues to rise – with massive effects on people, society and the economy.
New concepts are needed here. One central approach, for example, is to shift our thinking from pure care towards prevention. Thus, health offers by employers are becoming increasingly relevant and are far more than just a lifestyle issue: Around 60 per cent of employees find employers with company health offers more appealing than those without. At the same time, efficient, high-quality treatment must be ensured in the event of illness – both inpatient and outpatient. The same applies to competent care services that ensure that people can grow old with dignity. Health education is also becoming increasingly relevant in view of the complex subject matter and the wide range of offers and possibilities.
Mavie: A new strategic position in the healthcare sector
UNIQA wants to – and can – make a contribution in all these areas. Within the framework of a comprehensive "health ecosystem", we want to accompany and support people in terms of their health. We want to be a relevant partner for them throughout their lives – from birth to active ageing, both mentally and physically, in the private environment as well as at the workplace. This is the continuation of a tradition that goes back more than 200 years: Since 1811, we have stood by people and helped them take responsibility for their own health.
With the claim to establish ourselves as a holistic health provider, we deliberately go beyond the traditional insurance business. Now we are complementing our offer with a broad portfolio of health-related services. We thus address people, organisations and companies who want to actively promote their health and well-being. This includes existing UNIQA insurance customers and, above all, new customers. In the past, we have already taken important steps in this area with initiatives such as company health management, the establishment of the LARA health network (lab, doctor, X-ray, pharmacy) and by investing in the PremiQaMed Group – the leading operator of private clinics in Austria – so now we can build on a wealth of experience and a solid base of assets and services.
In order to combine our activities in this area and to be able to develop them jointly in a structured manner, Mavie Holding was founded in September 2022. It is intended to raise UNIQA's health offering to the next level and will [in future] unite the following companies for this purpose:
This means that under the umbrella of Mavie Holding there is an extremely broad portfolio of activities and services, and new business models and service areas are constantly being identified, evaluated and, where applicable, pursued: PremiQaMed Group, which has been part of the UNIQA family since 2011, represents traditional medical care at the highest level with its private hospitals, medical centres and outpatient clinics. Similarly, UNIQA Health Services offers access to the services and advice of more than 800 network partners through health networks such as LARA, especially in the outpatient sector. SanusX, in turn, the corporate start-up founded by UNIQA in 2020 to drive the Group's development towards being a holistic healthcare provider, contributes Mavie, an innovative provider of occupational healthcare, and a 39 per cent stake in cura domo, the 24-hour care company that is the market leader in Austria. SanusX is also responsible for exploring new business models in the health sector. The portfolio even includes innovative digital services for pharmacies and their customers, such as 24Med2U. In all areas, we are planning further expansion, the creation of new offerings, a consolidation of our market position and further growth – not least by acquiring existing companies. Innovation and digitalisation play a central role in this.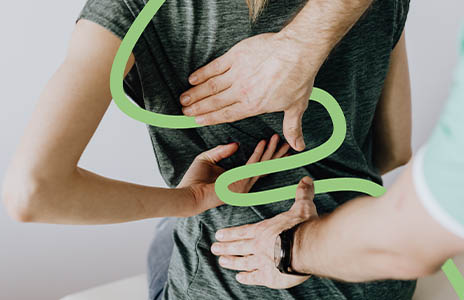 Corporate health services for mental and physical well-being
Services offered
Occupational health management (diagnostics, physical and mental health, nutrition)
Customers
Approximately 150 companies with approximately 120,000 employees
Employees
55, including 32 psychosocial counsellors
Goals/strategy
Become the number 1 for corporate health in Austria; expand the product range; expand the customer base; internationalise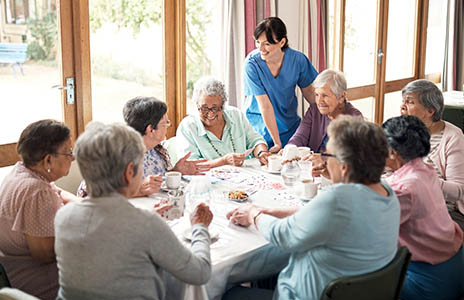 Austria's number 1 for 24-hour care
Services offered
24-hour home care
Customers
Approximately 1,000 families
Employees
Approximately 2,000 caregivers
Goals/strategy
Establish cura domo as the 24-hour care agency of choice; grow to 3,000 caregivers
Become the number 1 in occupational healthcare ...
In view of the great growth opportunities in the health sector, UNIQA has defined the goal of generating at least €100 million in additional turnover annually with health services by 2025. At the same time, it is the Group's clear ambition to be number 1 in occupational healthcare with Mavie. Rolled out as a corporate health brand in 2022, Mavie is already available to 150 companies with 120,000 employees, including such renowned names as IKEA and REWE, offering customer-centred solutions for diagnostics, physical and mental health as well as nutrition. Mavie can build on more than 20 years of experience in the field of occupational health management and existing high-quality services such as mobile health checks. It is already the market leader in the field of occupational mental healthcare. The company will continue to expand this focus, developing and offering new analogue and digital services for mental and physical well-being.
... and invest further in PremiQaMed
UNIQA is also currently investing heavily in further expansion in the private hospital sector: In Vienna, an extension to the Döbling private hospital has been under construction since 2022. Complete with a photovoltaic system, biodiversity garden and green façade, it will house new operating theatres with daylight, more space for the maternity ward, additional single rooms for patients as well as attractive working and recreation areas for employees. The work on what is already the most efficient private hospital in Austria is scheduled for completion in mid-2025.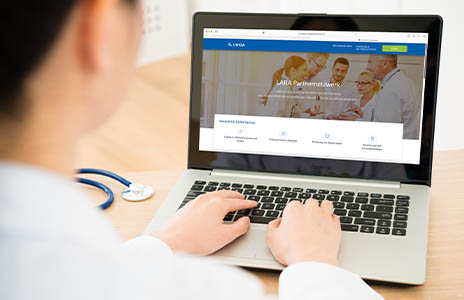 UNIQA Health Services: Powerful health networks
Services offered
Service and convenience through partner networks (LARA, VitalHotels, VitalCoaches, etc.) with numerous healthcare providers (quick appointments, 24/7 service, digital booking, simplified billing, medical advice also via telemedicine, prevention, wellness, fitness, etc.)
Customers
>50,000
Employees
11
Network partners
>800 that share the journey of "staying and becoming healthy" (doctors, doctor's offices and health centres, laboratories, X-ray institutes, pharmacies, fitness, lifestyle, prevention, etc.)
Goals/strategy
Acquisition of additional network partners throughout Austria (with a focus on LARA); new client platform together with Mavie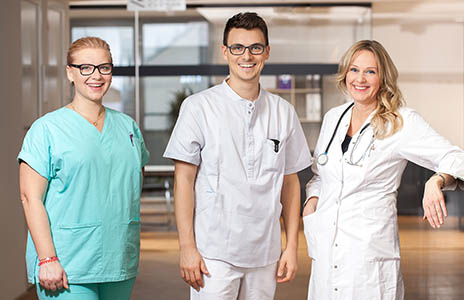 Leading operator of private hospitals, comprehensive provider of private medicine
Services offered
5 private hospitals, 1 outpatient clinic, 1 rehabilitation centre, 1 health centre
Customers
Approximately 46,000 inpatients, approximately 100,000 outpatients
Employees
Approximately 2,000
Goals/strategy
Further development of existing locations; additional offers in the area of corporate health and other new business segments
SanusX: New models for recruitment and innovation
SanusX not only creates new roles in the UNIQA Group for health and innovation but also breaks new ground in the area of talent recruitment, creates a new level of diversity and brings new forms of cooperation to life.
The current SanusX team already consists of employees from 19 different nations, and this also opens up a global perspective on the topic of health. The professional backgrounds of the employees range from start-up experience, medical expertise, M&A, agile working methods and user experience design to business and global brand development.
A core element of SanusX's recruitment and innovation strategy is the annual Entrepreneur-in-Residence (EiR) programme, where – within a tight timeframe of seven weeks each – ideas are developed, implemented and often viable prototypes are brought to market. The programme attracts world-leading talent from renowned universities such as INSEAD, London Business School, Cambridge Judge Business School, Imperial, Vienna University of Economics and Business, Oxford Saïd Business School and others. By combining different disciplines such as healthcare, medicine, business management and economics, SanusX not only achieves its primary goal here of recruiting top talent but also benefits from a side effect, namely the rapid development of new ideas for innovative business models. The EiR programme also strengthens SanusX's positioning with leading international business schools and universities. In 2023, it will take place for the fourth time.