Highlights 2022
Mavie:
UNIQA repositions itself in the Austrian healthcare market
With the founding of Mavie Holding in September 2022, UNIQA combined its non-insurance activities in the healthcare sector, giving it a new position in a fast-growing market. Mavie unites both the PremiQaMed Group and the offerings of SanusX and UNIQA Health Services under one roof, thus creating a comprehensive health ecosystem. The diverse portfolio now ranges from private clinics, medical centres and outpatient clinics, the health network LARA and 24-hour care all the way to company health management. Thanks to the broad range of synergies and potentials resulting from this bundling, Mavie is taking UNIQA's health offering to the next level. The result: ever new and even more attractive offers for a growing number of customers. The target is to generate at least around €100 million in additional annual revenue from healthcare services by 2025.
Southeastern Europe:
Gaining more clout by merging five markets into one region
To improve its operating performance in Croatia, Serbia, Bosnia and Herzegovina, Montenegro and Bulgaria and to leverage existing market potential in a (more) targeted way, UNIQA combined its subsidiaries in these countries into a single region in 2022. Considering the sound macroeconomic data, the companies concerned – eight insurance companies with around 1.7 million customers in total and one IT company – will coordinate more closely going forward in terms of both product policy for retail and corporate customers and business development and management, as well as in IT & Operations matters. This will not only put the individually relatively small companies in a better position in the market in a region with more than 22 million inhabitants, opening up growth potential for them, but it will also reduce complexity and thus favourably impact efficiency and profitability. UNIQA is also expecting this closer cooperation to provide valuable impetus for innovation.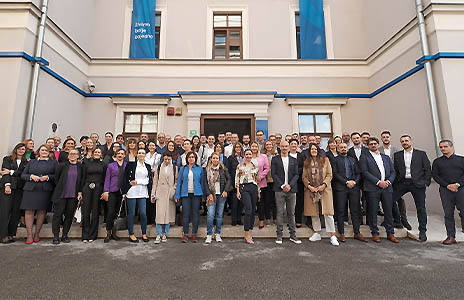 Sabine Pfeffer joins the
UNIQA Group

Management Board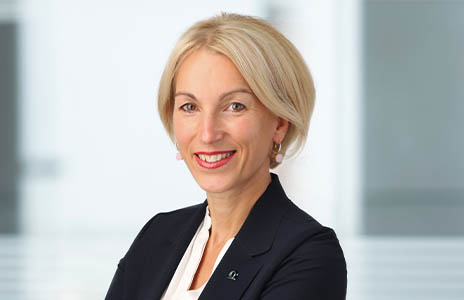 Sabine Pfeffer took over as head of Customers & Markets Bancassurance Austria at UNIQA Insurance Group AG on 1 April 2023, succeeding Klaus Pekarek following his retirement at the end of 2022. The graduate in Business Administration will therefore now be responsible for the Raiffeisen Insurance brand. Sabine Pfeffer also has a Master's degree in Legal Studies and has completed a university course in Insurance Management at the WU Executive Academy. With more than 20 years of management experience in the insurance industry, she not only boasts extensive specialised knowledge, but also has expertise in human relations, process and project management as well as compliance and risk management. Most recently, she managed the personal insurance administration department at Wiener Städtische Versicherung AG.
Joining the Green Finance Alliance
UNIQA has set another milestone on its path towards climate neutrality by joining the Green Finance Alliance. An initiative of the Austrian Ministry for Climate Action, the Green Finance Alliance aims to establish a broad alliance for climate protection within the country's financial industry. Since sustainability is an essential and integral part of UNIQA's Group strategy, becoming a member of the Green Finance Alliance was a logical step for the company. By joining this coalition, UNIQA voluntarily commits to playing a pioneering role in climate protection, gradually making its core business climate neutral and aligning itself with the 1.5-degree target of the Paris Agreement. The aim is to achieve climate neutrality in Austria by 2040 and across the entire UNIQA Group by 2050.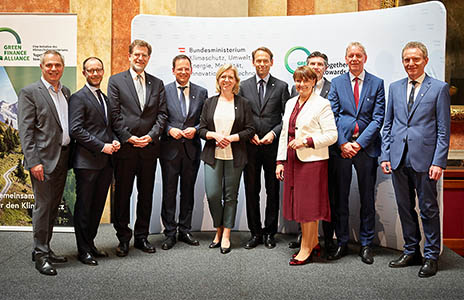 Akut-Versorgt:
Attractive additional service now also available in Upper Austria
Since 2017, Austria's leading health insurer UNIQA has been offering the acute care product Akut-Versorgt – an additional service provided in cooperation with partner hospitals and medical practices. This means that customers with premium category or private doctor insurance can obtain outpatient treatment outside normal surgery hours, and without long waits, for complaints such as back, neck or ear pain, minor injuries or insect bites. Akut-Versorgt is now also offered at the Kompetenzcenter Gesundheit St. Stephan health centre in Wels, Upper Austria. In addition to in-person visits, patients also have the option of consulting doctors via video consultation. This service is proving popular: in the last five years, UNIQA has been able to provide rapid assistance with Akut-Versorgt on around 12,000 occasions throughout Austria. UNIQA policyholders can try out the service for 14 months at no extra cost.
UNIQA Re, Zurich:
Ivana Stark appointed new CEO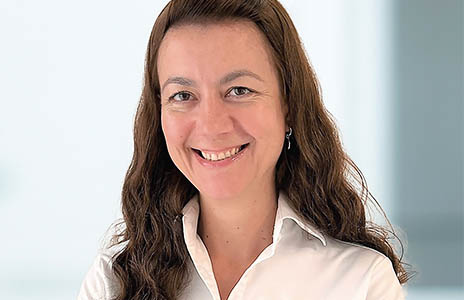 Ivana Stark, a Swiss national, has been steering the fortunes of UNIQA Re AG in Zurich since 1 June 2022 as the new CEO. She most recently served as Global Head of International Property and Engineering at QIC Global and this, combined with her academic credentials in insurance, makes her ideally qualified to manage UNIQA Re. UNIQA Re AG is a wholly-owned subsidiary of UNIQA Insurance Group AG. As the Group's internal reinsurer, UNIQA Re advises all 40 insurance companies within the UNIQA Group, across 18 European countries, on matters relating to reinsurance in the life and non-life sectors. In addition to this, UNIQA Re is also responsible for coordinating and organising internal and external reinsurance relations for UNIQA Group companies, thus helping to optimise the use of risk capital.
Strong growth for CHERRISK
Four years, four countries and one insurance policy taken out every three minutes: CHERRISK is making great strides towards achieving its objective of gradually raising the share of direct sales and increasingly addressing younger target groups through digital end-to-end offers. With its successful market entry in Germany, CHERRISK has tapped into one of the largest insurance markets in Europe. In Hungary, CHERRISK's home market, online sales have been successfully diversified, while the innovative digital ecosystem has also been established under the UNIQA brand in Slovakia and Czechia since 2022. As a result, more than 450,000 users now have direct access to our wide range of travel, household and casualty insurance products via CHERRISK. And they are doing something good at the same time: the CHERRISK community now includes more than 50,000 active donors, who have supported over 50 charity projects.
Ukraine:
Our hearts beat blue and yellow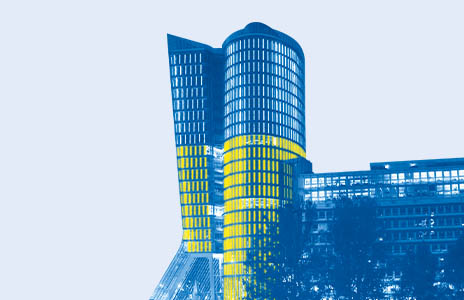 This was the motto under which UNIQA, and above all its employees, this past year made an impressive show of solidarity with Ukraine, which has been at war since February 2022. Both employees and customers in the country were able to count on the full commitment and support of the UNIQA family. We continued to service our approximately 1.6 million Ukrainian customers without interruption, even reducing the processing time for claims reports to a third of what it was. In order to keep operations going, the head office and the main regional offices were equipped with generators and additional mobile phone and internet connections. The top priority in all these measures was the safety of our approximately 850 Ukrainian colleagues. For 124 of them who had to flee Ukraine with their families, UNIQA – supported by more than 160 volunteer "buddies" – also provided accommodation, financial support and psychological and legal assistance. At the same time, a fundraising campaign entitled "UNIQA Helping Hands" was launched to fund emergency aid in the crisis areas, which also included medical aid transportation and the establishment of reception centres at the borders.
Döbling Private Hospital, Vienna:
€60 million

investment

New operating theatres with natural light, more space for the maternity ward, a lounge for staff and additional single rooms for patients – these are the main elements of the ongoing expansion of Döbling Private Hospital in Vienna. Together with its attached outpatient clinic and medical centre, it is already the most efficient private hospital in Austria and, as part of PremiQaMed, has belonged to the UNIQA Group since 1995. Approximately 16,000 inpatients and 60,000 outpatients are cared for here every year. The sustainable construction project to expand and modernise the hospital – including a photovoltaic system, biodiversity garden and green facade – has already begun and is intended to secure the leading position of Döbling Private Hospital in the long term. In mid-January 2023, the foundation stone was laid for the five-storey extension, which will meet the "klimaaktiv Gold" building standard. As part of this project, a neighbouring plot of land is being redeveloped and connected to the existing hospital. The hospital's clinical operations will not be affected by the construction work and will carry on without restrictions. The €60 million project is scheduled for completion in 2026.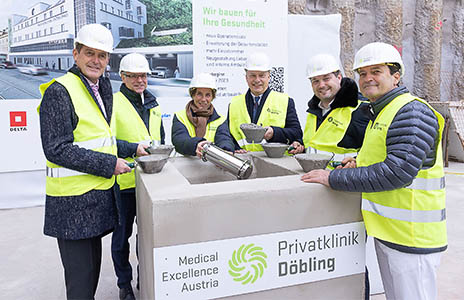 Well on the way to becoming the most appealing employer
Employee experience, cultural transformation and diversity & inclusion – these are UNIQA's priorities on its way to becoming the most appealing employer in the industry, a key objective in the UNIQA 3.0 strategy. Continuous investment, particularly in learning, development and recruitment, aims to ensure that UNIQA remains successful in the competition for talent. With some success: UNIQA was able to recruit around 600 new employees in Austria alone in 2022, and as many as 2,500 across the entire Group. The proportion of women in management positions is also increasing continuously, and the gender pay gap is now just 0.6 per cent. It is not very surprising then that the feedback from employees is improving all the time: UNIQA already has over 1,000 reviews on the popular independent review platform kununu, and is very pleased to note that it has a very solid rating of 4.1 stars here.
Numerous CSR activities in the CEE region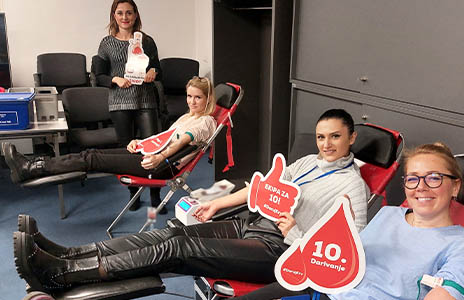 Motivated by the slogan "Living better together", UNIQA employees have organised and supported various CSR activities throughout the CEE region. For example, the entire workforce of UNIQA Macedonia donated blood with the help of the Red Cross and thus helped to save lives. Blood donations are part of the regular social activities for staff at UNIQA Montenegro, UNIQA Bosnia and Herzegovina and UNIQA Hungary, too. Meanwhile, in Slovakia, UNIQA has established a partnership with the League for Mental Health and works together with it in the field of CSR. They have developed a joint project to offer special therapeutic treatment to children from vulnerable families.