Hopefully a joy to read
The cover of our Annual Report 2016 shows the smiling face of one of our customers or employees. What are we trying to say with this? We want to convey a joy of life, both to you and to other people with whom we have dealings – or, as we put it in our mission statement, to support you with "safer, better, longer living".
But please don't get the wrong idea: we're not in any way presuming to be able to enforce a joy of life. That would be grossly overestimating the significance of insurance in people's lives, despite all the goodwill which abounds in our industry. Yet we do want to make a small but tangible contribution wherever we can, such that our customers can enjoy greater security and freedom in their lives through our products and services. We endeavour to make a personal contribution to safer, better, longer living.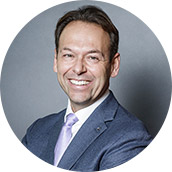 Hopefully you're one of our customers. Hopefully you're one of our shareholders. Ideally you might even be both … In any case, you're in contact with our company merely by virtue of the fact that you're currently reading or at least browsing through this Annual Report. And that's why we don't want to give you just any old annual report. We don't want to bore you, but rather we want to contribute to your joy of life, or at the very least your joy of reading. We've included plenty of information on the diverse work that we do and some meaningful statistics. We've even thrown in a healthy dose of self-irony here and there.
Service is our business. For ten million customers, for our sales partners, and for our shareholders. We, the employees of UNIQA, are very aware of this, though we're also only human. We tackle issues with commitment and enjoy getting to grips with tasks, but we do also make mistakes. That's why it's so important to us that you understand, despite these mistakes and despite our potential for improvement, our efforts and our intention to become better.
We would love it if our Annual Report 2016 were to make a small contribution towards your personal perception of how we work.
Andreas Brandstetter
CEO UNIQA Group
We look to support our clients in their living safer, better, longer lives. And in this way, we hope to make a small contribution to help them to enjoy life more. This – and only this – is our mission. Therefore, we have dedicated the cover of this annual report exclusively to this theme – with no text or logos. And since joy of life is as individual as it is diverse, you are also holding one of many covers. You can see all cover motifs – which feature UNIQA employees and clients – here: