Interview with Hartwig Löger
"Advisors who only care about selling contracts – and not quality – are going to have a hard time in the future."
For Hartwig Löger, CEO of UNIQA Austria, closeness to customers requires individual service. Consultation and sales may take place online more often in future but service quality does not have to suffer at all. UNIQA's new electronic documentation is an important tool for this.
UNIQA Austria advertises that it has a great many locations so that it can be available locally to the customer. What kind of advantages does this bring, and doesn't that stand in diametrical opposition to online sales?
No, our basic principle relies on an integrated model. Regardless of whether customers buy a product on the Internet or in person from an advisor, they can always count on personal advice. It is precisely this direct contact and highly individualised consultation that set our sales operation apart. We have a total of nine regional headquarters in Austria and over 400 regional locations that offer on-site insurance. Our network of advisors is comprised of a 3,000-strong exclusive sales force and more than 4,000 independent brokers. However, customer behaviour is in a state of constant flux when it comes to information and communication, as well as buying products and services – and that means that we will have to make the appropriate adjustments.
What will this mean for the sales force once this homework is completed?
The ways in which we measure success will change. Today, the focus is on the commission that is directly associated with a successful sale. In future, the quality of service will be the criterion for advisor commissions. The new sales guidelines, called IDD, are already restructuring sales in this direction.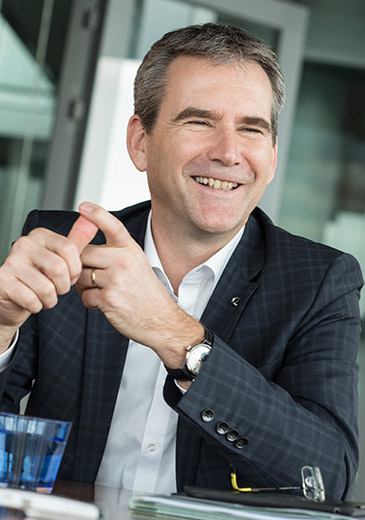 Hartwig Löger, 51

Hartwig Löger has been the Chairmanof the Management Board of UNIQA Austria since 2011. He also oversees sales. Prior to that, he was the head of exclusive distribution at the UNIQAGroup and managing director of UNIQA International Versicherungs-Holding GmbH. Hartwig Löger graduated from the International Management programme at the University of St. Gallen. His career began traditionally – in sales at AON Jauch & Hübener – followed by stints at Allianz, Grazer Wechselseitige and Donau Versicherung.
"This direct contact and highly individualised consultation set our sales operation apart."
How can the quality of consultation be assessed if not by the signing of a contract?
It will create a system in which the customer evaluates the quality of service and expresses their satisfaction.
Will there be fewer sales employees?
Customers' behaviour will ultimately decide this. But clearly, if customers are able to do certain things themselves because of digitalisation, such as change their address themselves or add components to their contracts online, then this will influence the number of salespeople. This will require even more concentration on the quality of service.
Currently, only about 2 per cent of all contracts are completed online at UNIQA Austria. Why is this figure still so low?
This is because customer demand remains restrained, and our online services are not yet fully developed. However, consultation will continue to be done very often in person. Of course we are aware that a great number of our customers gather information online before they come to us, and certainly the trend of buying products online will only get stronger in the future.
How many contracts were completed online in 2016, and which new premiums were you able to realise with them?
At www.uniqa.at our customers can already calculate premiums for 15 products and also take out contracts for 13 of these products. Travel insurance is the bestseller. Here we saw an increase in sales of 81 per cent in 2016. In 2015, 7,500 travel insurance policies were completed online, and last year we sold over 13,600. Since we started the health insurance needs calculator in the first half of 2016, we've already made almost €300,000 in new premiums.
What is electronic documentation?

From pinpointing needs to underwriting.

Electronic documentation is being tested in the sales force in the first quarter of 2017. This will then be used in the entire business. What is new is that this innovative tool helps us assess customer demand electronically, and keep track of it digitally. The new consumer protection guideline, IDD, which is entering into force in 2018, means that a very individual and exact needs assessment must be done, in a transparent and comprehensible way, before the product sale. The new electronic documentation provides precisely this puzzle piece and makes data collection and underwriting even more modern and efficient. It also enables targeted customer relationship management (CRM), meaning integrated data implementation and use.
What do you expect from the new IT system that is being implemented right now?
The UNIQA Insurance Platform (UIP) is a long-overdue reformation of our entire IT system. The new platform will support us in becoming even more efficient and in further optimising our processes. I expect that our customers will benefit in particular from this because, thanks to our new IT system, we will be able to offer products solutions that can be processed better and more quickly.
Where do you see opportunities in the portfolio to establish insurance products in additional areas?
In all of the lines. Even if at the moment it is incredibly difficult to present classic life insurance, the product still remains very important for our customers. This is because the basic public pension system is increasingly hitting its limits. It will be our responsibility, despite the prevailing conditions, to offer products that are relevant and interesting for our customers. In the automobile insurance line, we are seeing a trend from car owners to users. In urban areas, such as Vienna, there is already a shift towards car-sharing models. I believe that the new circumstances will create new opportunities in certain niche segments, or as a service provider. In our core area, health insurance, we are already in a good position, but I see major demand especially in this line.