Social responsibility? Surely yes!
Sustainable economic success is inconceivable without a social and environmental vision. This is why UNIQA supports a wide range of initiatives to benefit people and the environment. The overriding aim, as ever, is to ensure safer, better, longer living.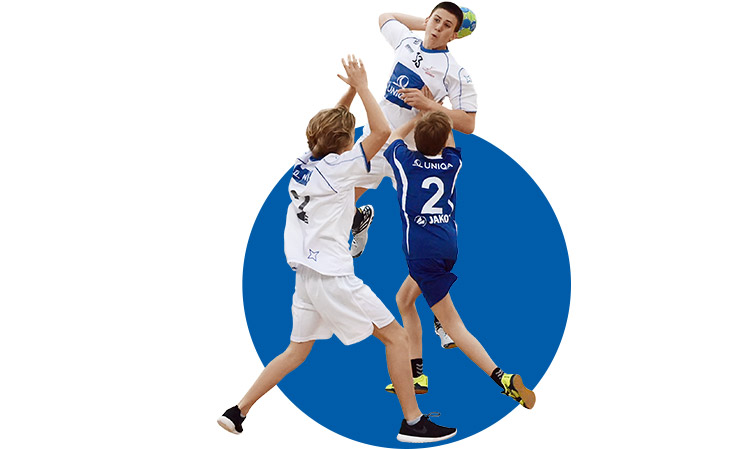 Since 2016 the central contact person in the Group for corporate social responsibility (CSR) and sustainability has been Andreas Rauter, Head of Regulatory & Public Affairs. In 2017 UNIQA is publishing its first-ever separate sustainability report, which will go well beyond the statutory requirements of the latest Global Reporting Initiative (GRI).
So how exactly does UNIQA define social responsibility? "As Austria's largest health insurer, we care a great deal about our customers' quality of life," explains Carl Gabriel, Head of Sponsoring at the Group. "The aim is to ensure that our customers, our employees and all those to whom we provide direct or indirect support have safer, better and longer lives – that is our mission and gives us credibility."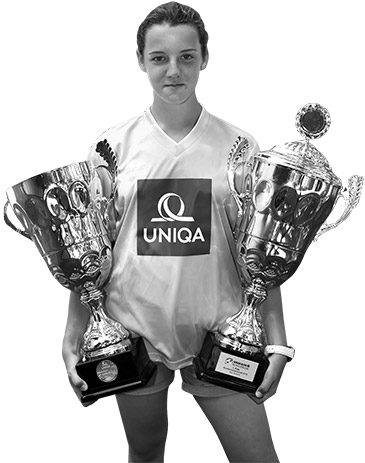 Lara Felix, footballer

"It's great that UNIQA supports the girls' school football league like this. We can kick just as well as the boys."
Young people's health is particularly important to the Company. The spectrum here ranges from sport and nutrition right through to mental health. Unlike some competitors, UNIQA is not content just to have a presence as sponsor through advertising banners at sporting events, or to have top athletes representing the Company as brand ambassadors: "We want to reach parents and children through sports idols," explains Gabriel. Motivation is provided here by Olympic ski champion Matthias Mayer, along with Benjamin Raich and Marlies Raich-Schild, who after careers in Austrian skiing are now spreading enthusiasm for a sustainably healthy lifestyle.
Elite sport and sports for all
Lara Felix shows just how quickly a sport-loving child can become an up-and-coming star: the fourteen-year-old girl from Vienna not only helped her own team to win the title at the UNIQA Girls' Football League in 2016, she also scored the deciding goal at the final victory in 2016, as the only girl in a team of boys.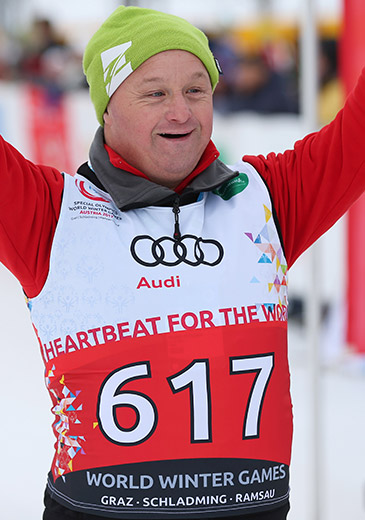 From 14 to 25 March, the 2017 Special Olympics World Winter Games were held in Schladming, Ramsau and Graz with UNIQA as the main sponsor. A total of 3,000 athletes with intellectual disabilities from 110 nations went to the starting line.
UNIQA also supports school leagues for handball, volleyball and basketball – but anyone who thinks that the Group is only interested in promising up-and-coming professional talent is mistaken: in 2016 UNIQA also helped more than 200 children, young people and their parents to get moving again with the free one-day "Fit aufwachsen Camps" ("Grow-Up-Fit Camps"). The parallel initiative "Vital4Brain" aims to balance learning with exercise in schools.
The Special Olympics are another very important story, where, as is well known, the focus is not on new sporting records, but rather on integrated experiences, pursuing goals and developing the potential of intellectually disabled athletes. "The participants in the Special Olympics radiate a joy for life, so they fit well into our brand positioning," says Gabriel, explaining why UNIQA is the main sponsor for the 2017 Special Olympics World Winter Games, which were held this year in Austria for the second time.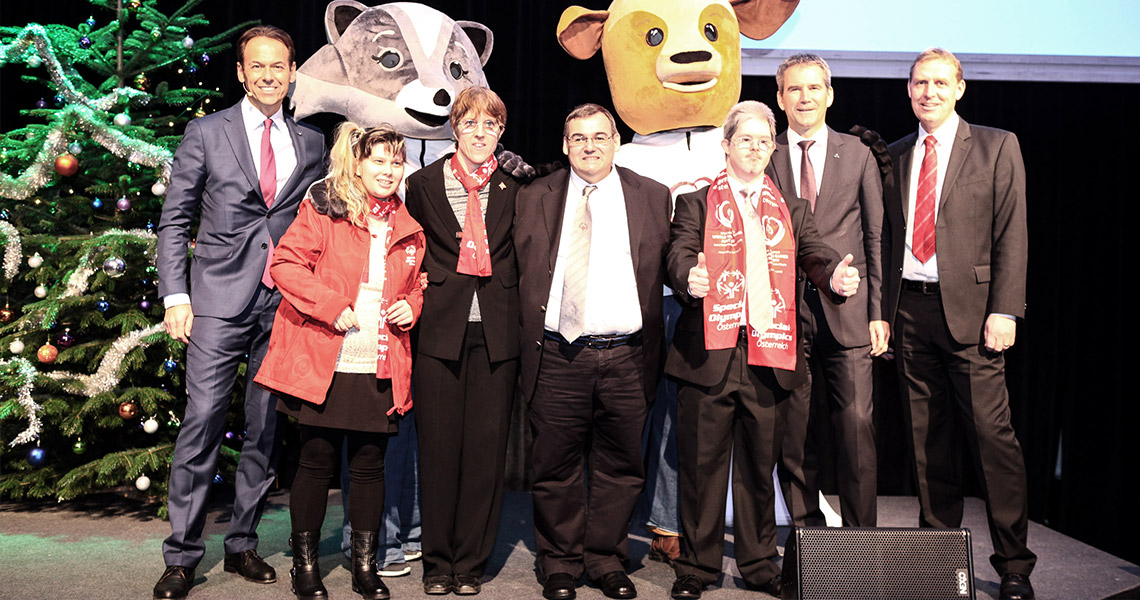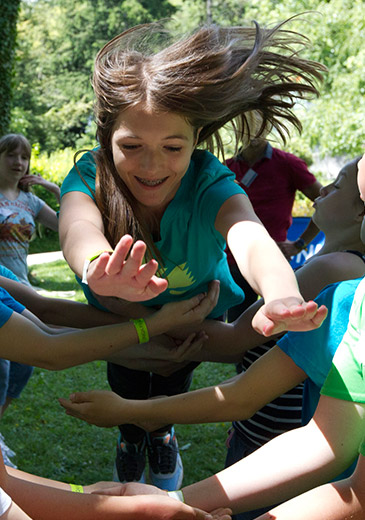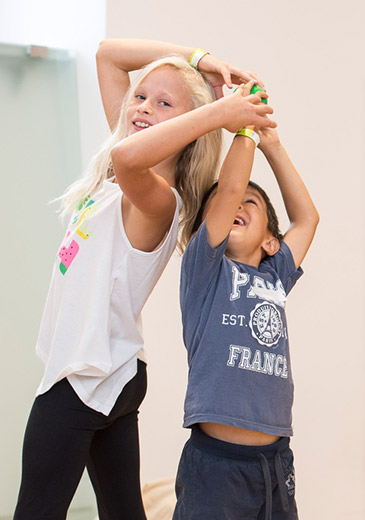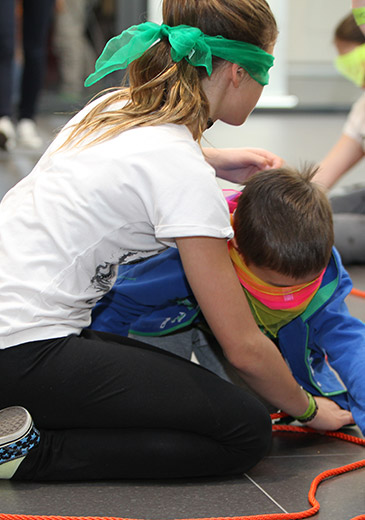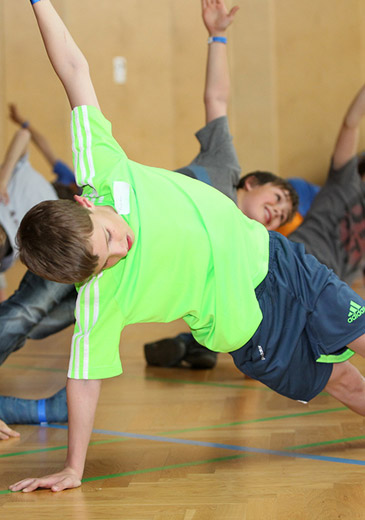 Grow up fit: at the Grow-Up-Fit Camp, youngsters between the ages of eight and twelve spend a day learning about exercise, healthy nutrition, mental strength and safe media use in a playful and diverse way. Because parents are the most important role model for children, UNIQA also offers a special parent-coaching programme at the Grow-Up-Fit Camp.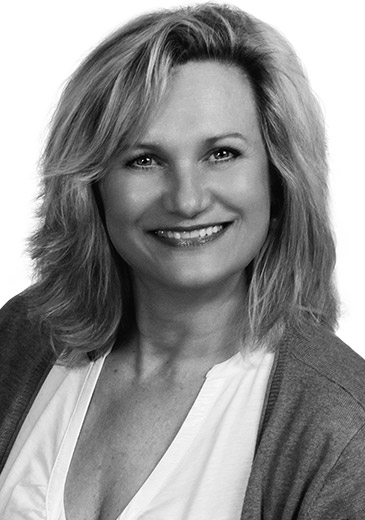 Marion Kröll, regional office
Styria/Schladming, UNIQA Austria

"I'm proud that UNIQA sponsored the 2017 Special Olympics World Winter Games. Being able to share this joy with intellectually disabled people was an amazing experience. I have a special connection with the Games since my father was president of the Special Olympics movement in Austria for 23 years. I think it's great too that 200 colleagues helped with the games as volunteers."
Commitment & integration
Sponsorship may be a matter for the bosses, but providing employees with the opportunity to get involved in social issues also reflects UNIQA's corporate culture. Since 2013 we have allowed our employees to take one day off from work each year – known as a "social day" – to take part in charity projects. In special circumstances, the UNIQA Group even doubles this offer to two free days per employee, for instance, to help refugees or for the Special Olympics in 2017. And there's a good reason for that: more than 200 company employees volunteered within just a few days at the Special Olympics alone, for activities ranging from serving food to dismantling stages.

The extent to which the concept of integration is ingrained in UNIQA employees' thinking is also shown through their commitment to refugees. Management Board members set the example by spending time at the Haus Damaris refugee centre, provided by UNIQA and run by Caritas, in Vienna's 19th District, and working to alleviate the hardship suffered by asylum seekers through donations of food, clothes and money.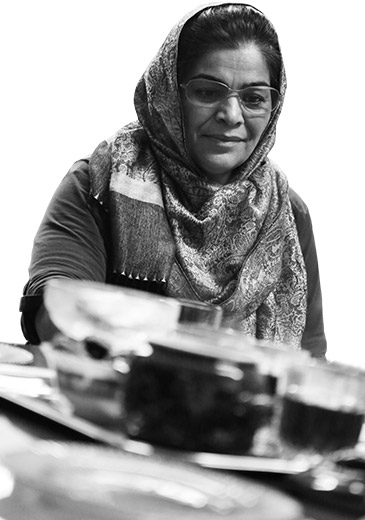 Shukria Jaffari,asylum seeker from Afghanistan

"My family and I have found a new home at Haus Damaris in Vienna. Thank you UNIQA!"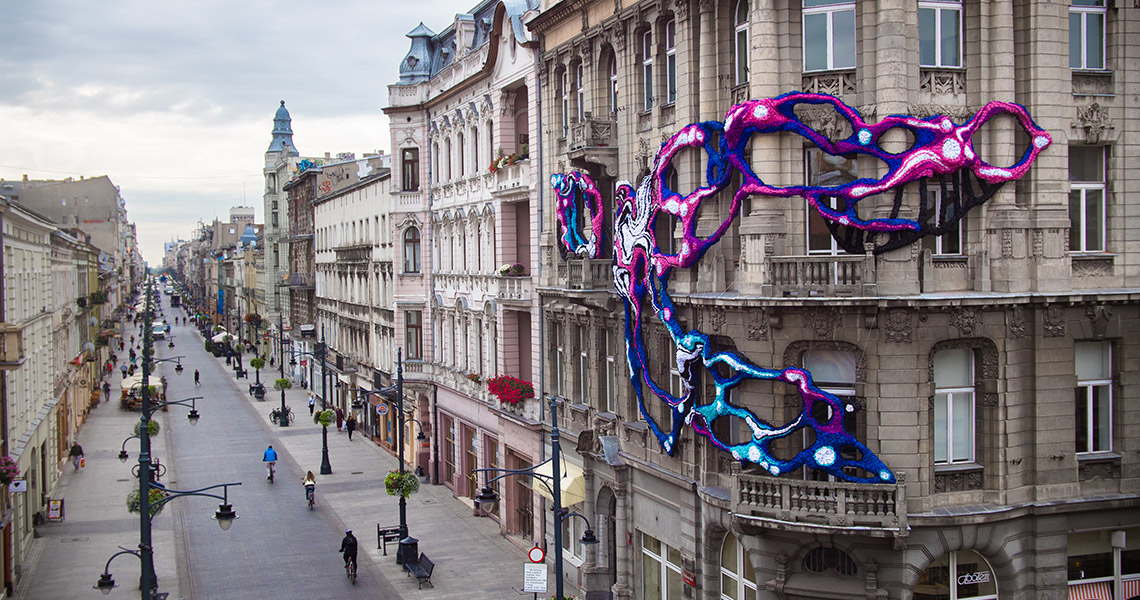 Culture & creativity
Whether from a migrant background or otherwise – Carl Gabriel is convinced that "Language is the key to a successful future and, as insurers, we always need to be thinking about the future." That is why UNIQA is once again supporting the "SAG'S MULTI" ("Say it multilingually!") speech competition in the 2016/2017 academic year, as main sponsor for the eighth time; this year's competition includes not only German and a wide range of mother tongues, but also sign language for the first time.
Culture of course involves more than just language, and music also has the ability to connect people without words. From this perspective, UNIQA's sponsorship of the children's opera at the Salzburg Festival as well as the CEE Film Festival can most definitely be seen as a further contribution to integration and education. As Austria's biggest art insurer, the Group also focuses on sponsoring museums, but smaller and younger institutions abroad enjoy support from UNIQA too, such as a gallery for street art in Łódź, Poland, along with various other art projects. Creativity is also the theme at the UNIKATE ideas competition, through which UNIQA has since 2011 been encouraging students' technical innovations aimed at making life easier for disabled people.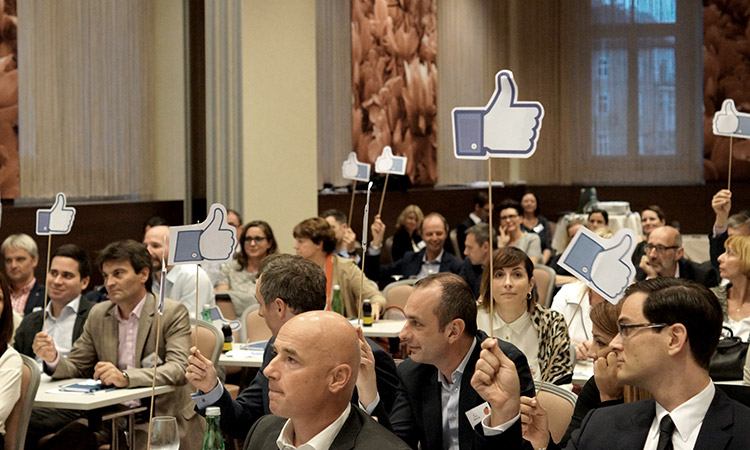 Work & life
In terms of making life easier: "A work-life balance is important," says Head of Group Human Resources Robert Linke, "which is why 'UNIQA Freiraum' services offer our employees all sorts of help, from arranging child care to a laundry service right at company headquarters." The UNIQA Sport Club also helps everyone stay in shape with sports such as running, sailing, tennis and volleyball.
Setting a good example is not enough for us. We want to help our customers achieve improved health and well-being through preventive measures such as advice from vitality coaches, or wellness retreats and preventive screening, all consolidated in the "UNIQA Vital-Plan". Healthy lifestyles are rewarded with a Fitness Bonus and there are premium refunds for unused benefits. Of course, we think about companies as well as private customers: "UNIQA Vitalbilanz" ("Vitality balance") offers 120 modules for occupational health management.
Training & empowering women
For Head of HR Robert Linke, training is also important on another level. "A key component in meeting our strategic objectives is the provision of customised training and development programmes," says the Head of HR. "Our SHAPE programme is aimed directly at senior managers and Management Board members, while NEXT is targeted at selected up-and-coming talents within the Group."
The leadership team at UNIQA features a mediocre ratio of women – although internationally the proportion of female board members and of women in executive positions is 29 per cent, in Austria it is just 20 per cent; for Linke this clearly needs to be improved. "We want to increase this percentage further," he says, "which is why we give preference to women in the recruitment process, if skills and qualifications are the same."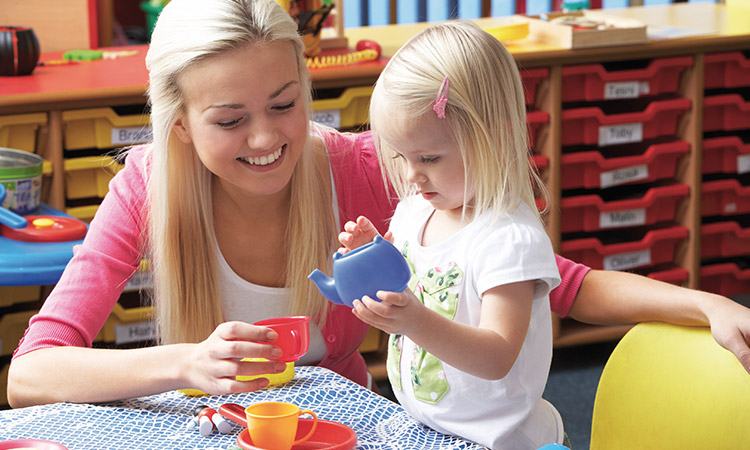 Green & clean
The UNIQA Group also sets a clear example in environmental issues. Environmentally friendly behaviour is rewarded with sustainable insurance products such as SafeLine car insurance, and unit-linked life insurance provides customers with the option of investing their premiums in sustainable funds.
In 2008, UNIQA Tower was one of the first buildings in Europe to receive the EU Green Building Certificate, along with the Facility Prize awarded by M+W Zander Facility Management GmbH for the best cost/benefit ratio; it was also awarded the LEEDS Certificate by the U.S. Green Building Council. Since that beginning, the Group has always believed that it has a duty to be an environmental pioneer. The Company procures 100 per cent of the power it requires in Austria from suppliers that have the "Green Electricity" certification, while the use of heat pumps decreases CO2 emissions by 84 tonnes per year, and 33 per cent of the power for heating and cooling comes from geothermal sources – not to mention the fact that the UNIQA Tower uses 40 per cent less energy than comparable office buildings.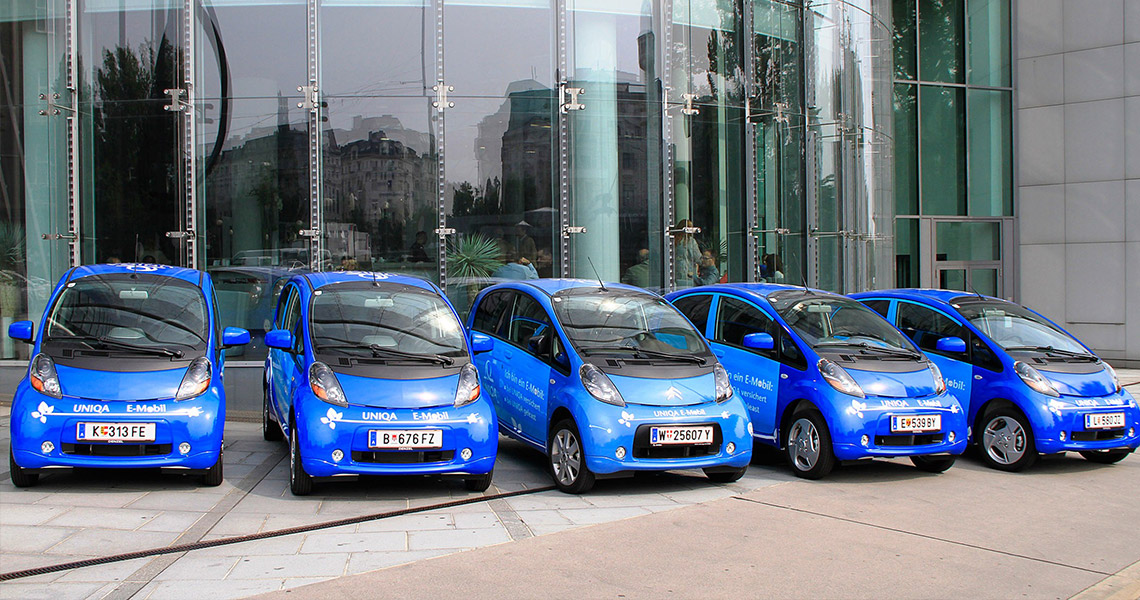 "Even our vehicle fleet plays its part in protecting healthy living spaces for future generations," says Andreas Rauter, the Group's lead Sustainability Coordinator. He is proud of their exemplary performance: "A company car from UNIQA uses on average 119 grams of CO2 per kilometre, which is not only our best result so far, but also around 8 per cent less than the year before." Eleven of approximately 200 company cars used in Austria are powered by electricity. Employees who do without a car altogether receive a discount when they buy tickets for public transport.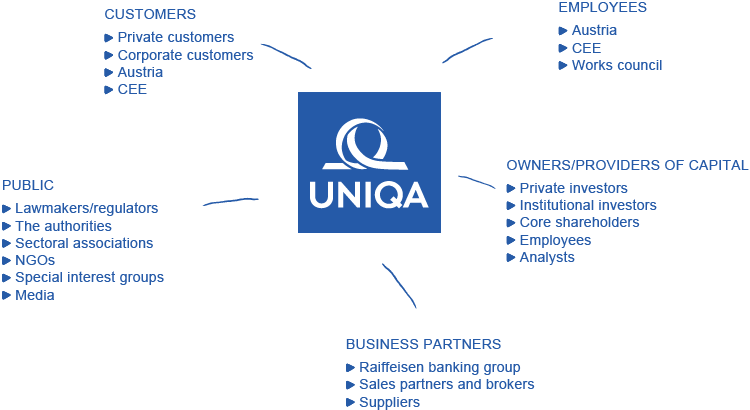 Ideas & innovation
"An insurance company fulfils the role of absorbing and containing the risks in our environment as effectively as possible," says Rauter, explaining UNIQA's commitment to the environment and climate protection. The Group awards prizes both internally and externally for innovative environmentally friendly solutions, through competitions such as the Raiffeisen Sustainability Challenge or through its support for the world's biggest competition for sustainable business ideas, the EU-founded ClimateLaunchpad.
Employees can even win prizes for efficient use of resources at home, for instance with the electricity reduction competition. The award goes to the employee who manages to save the most electricity in a year. A Climate Protection Manual also provides practical tips for private and professional everyday life.
Carl Gabriel

is responsible for sponsorship activities at the UNIQA Group.

Robert Linke

has been Head of Group HR since 2016.

Andreas Rauter

heads the Regulatory &Public Affairs department, and also coordinates CSR and sustainability.
Premiums
Total premiums written. All premiums from contracts written in the financial year from business acquired by the company directly and as inward reinsurance.